Finally, I've been able to make some serious headway on my 1/48 scale GWM Douglas TBD_1 Devastator build for the Douglas Propeller Campaign. As with most kits, I like to start out with the cockpit.
Here lies the 1st issue I had to deal with, as what color to paint the interior. Research has shown that all Naval aircraft interior colors were aluminum lacquer for pre-war early production models of the Vindicator, Devastator, & Dauntless. After the Pearl Harbor attack, through the Battle of the Coral Sea, and up to Midway, all Naval aircraft were repainted. That included the interiors to what is commonly called Bronze/Interior Green.
The issue is that not all planes were painted, and certainly not all the interiors were converted according to the allotted time schedule. I'm going on the assumption that both depicted aircraft in the kit were repainted to Bronze/Interior Green, when they painted the exteriors to the two tone Intermediate Blue/Gray top & neutral Gray bottom.
Before I started my painting procedures, I had to do a little PE work. Two hinges and a bracket for the radio were added, and the large front fuselage section that when the two doors were opened, it allowed the pilot to see out of a large bottom window.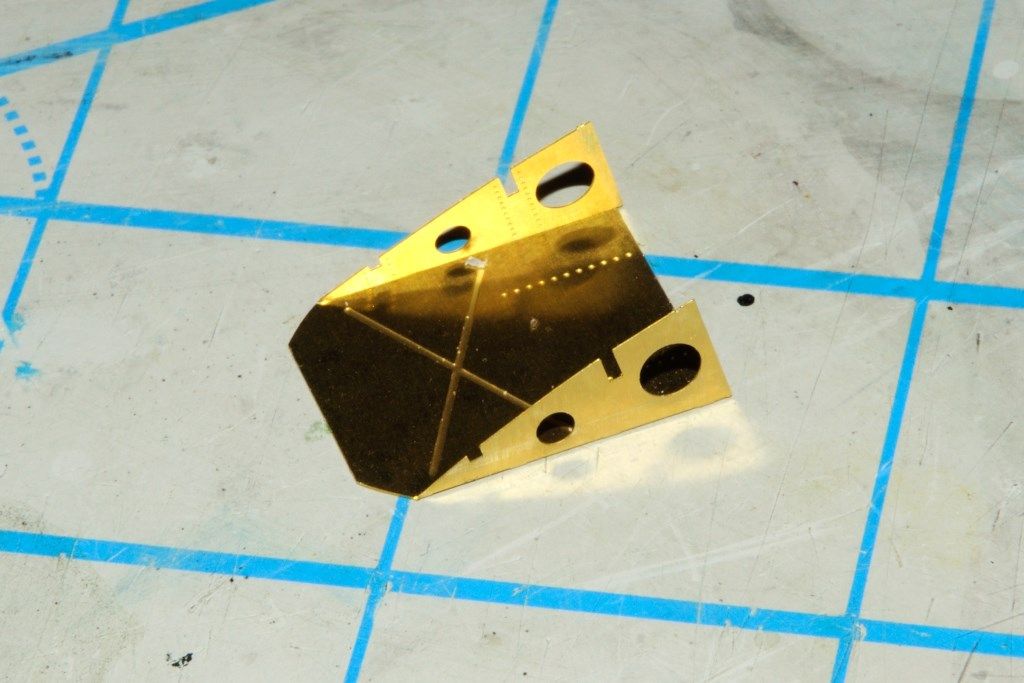 I primed the interior of the fuselage halves, as well as all the interior cockpit parts flat black, to help with color modulation and shading.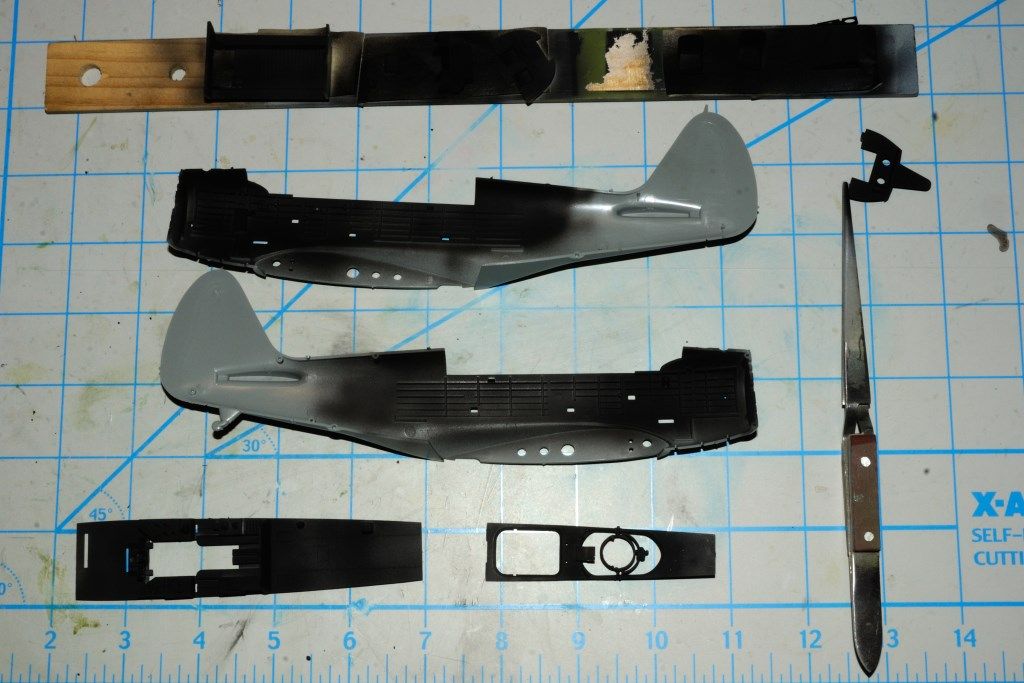 I next airbrushed the same parts a custom mixture of Tamiya Acrylic XF-4 & XF-5 thinned 2 parts thinner to 1 part paint. I used good old store lacquer thinner. The mixture flowed like when I used enamels in the old days. Applying several light coats gave me the finish I was looking for. Unfortunately, this set of pictures, I once again took the easy way out and used the pop up flash, which just killed the dry brushing and the dark interior green color. My next series of pictures I'm going back to natural light and a tripod for the proper effect. So please bare with me on the colors. They're just way too bright and somewhat washed out.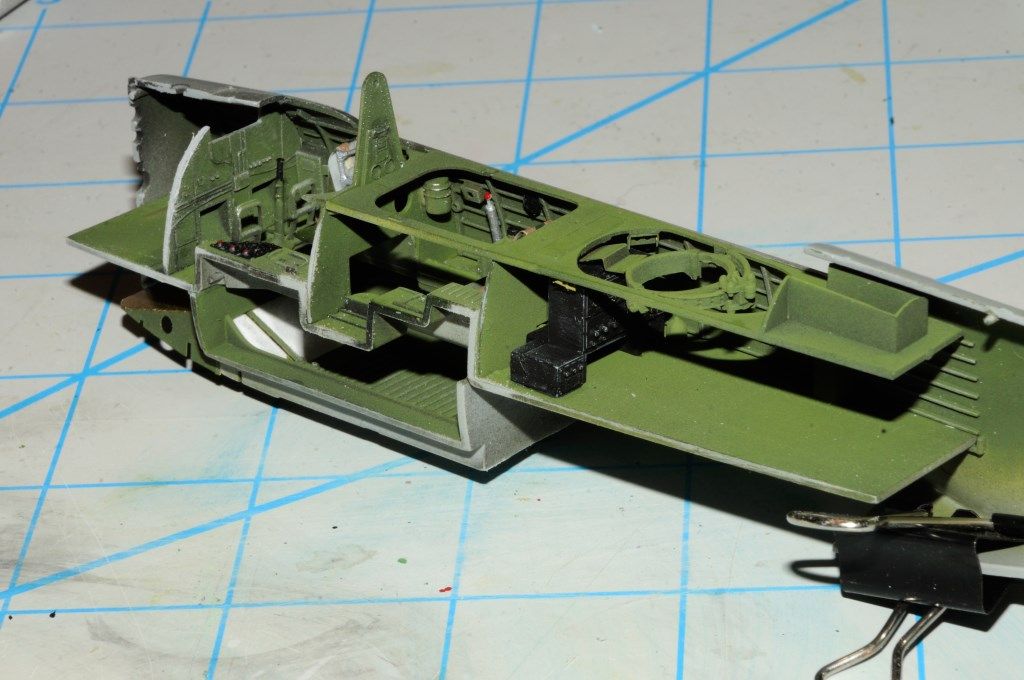 Next I glued up the PE section for the lower fuselage. Hindsight would have made it a lot easier to glue it up, then paint it, as I'm doing some needed putty and sanding that will destroy the paint anyway.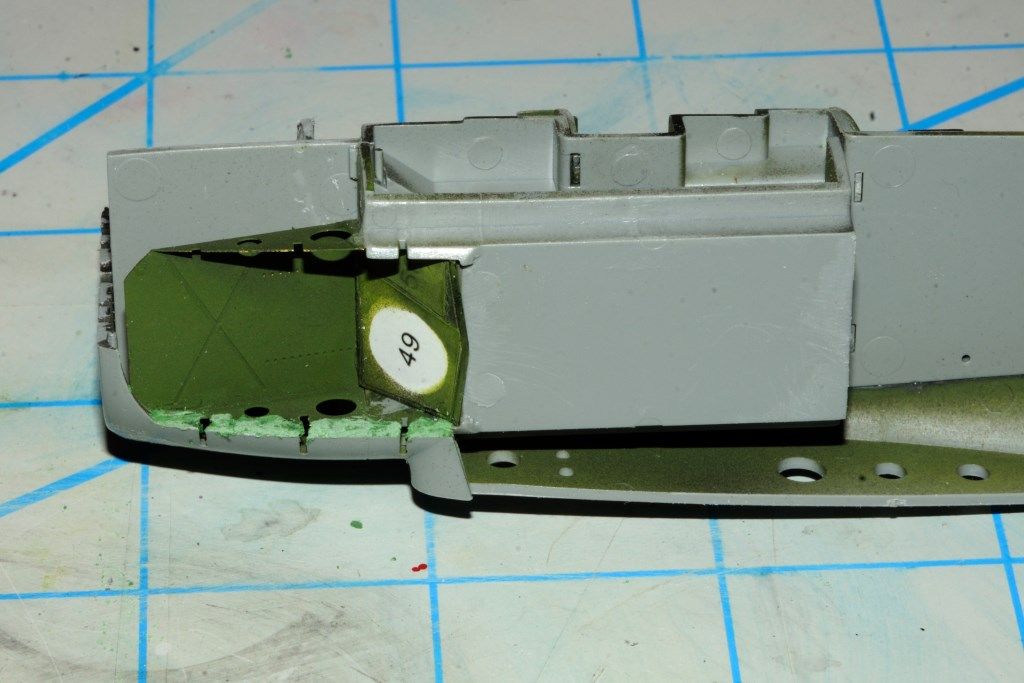 Finally, I painted both instrument panels flat black, then installed each decal instrument, and used Pledge to make the clear gloss lenses.
Thanks for taking the time to look,
Joel